In a warm, humid country such as Singapore, a swimming pool is a glistening beacon of temporary respite. For residential properties, a pool is a luxury, an investment that is considered your real estate's crowning jewel. Either way, a swimming pool is a perfect escape to take recreational laps or just wind down and wade around after a long day at work.
Skypeak Maintenance Services is a renowned swimming pool construction contractor in residential areas. For years, we have been directly hands-on in designing, constructing or remodeling luxury pools for various landed properties in Singapore. We have a team of well-trained, constantly upgraded professionals with unparalleled in-depth knowledge of all aspects of swimming pool construction, from conceptualisation, design, refurbishment, maintenance and cleaning.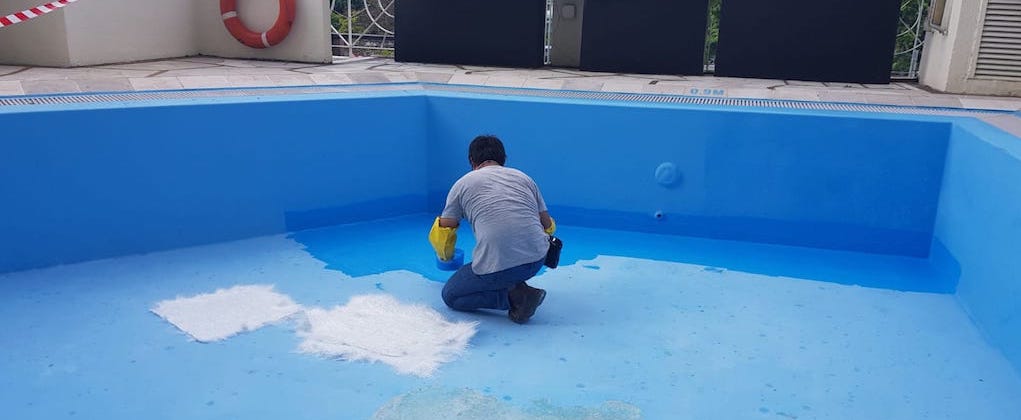 Our Types of Swimming Pool Construction Services
We take into account your unique tastes, preferences, timeline and budget. Thus, all our pool design and construction work are customised and based specifically on your needs, budget and available space. We construct in-ground or above ground swimming pools, tailor-made for your available space.
IN-GROUND SWIMMING POOLS
In-ground swimming pools are the most common types of pools. Immersed in the ground, it requires digging, and of course acquisition of necessary permits from the authorities. In-ground swimming pools come in a variety of designs and come in different material composition. The most common in-ground swimming pool types are:
Fiberglass.
Subsequent to digging the earth, fiberglass is placed in the dug-out space. Fiberglass is more flexible than the other types and can be moulded and cast accord to the homeowner's preference.
Vinyl.
Vinyl is inserted into the excavated hole. Vinyl is the most affordable option out of the three. However, due to its material, it will entail more regular maintenance and may require a replacement sooner than the other two types.
Concrete.
Not necessarily the cheapest, but the most preferred, concrete allows for more customisation. The variety extends as far as your imagination, budget and space allows. After the installation, the proper finishing used are tiles, paints or even marble, if you have the penchant to splurge.
ABOVE GROUND SWIMMING POOLS
Above ground swimming pools, are, as the name suggests, above ground. Therefore, no excavation works occur, which means that the cost to construct one is much cheaper and less scrupulous than in-ground pools. Above-ground pools can also be moved conveniently, should you need to relocate it to a new space. There are two common above-ground options preferred by Singapore homeowners:
Soft-sided.
Typically, liners are used as the actual structure, and supported with a sturdy framework and detailing.
Rigid-sided.
Sturdy, rigid walls are made of aluminium, steel, or wood. Of course, walls and vinyl liners are used to line the pool.
No matter what type of pool you prefer, quality should be your top consideration. It does not matter what creative swimming pool design you choose for your home, it is necessary to find the right swimming pool construction company to address your swimming pool design, installation and finishing requirements according to your preferred budget, and specifications. Of course, after-sales service is equally important. Most likely, the company you engage to design and construct your swimming pool will be the one to look after your precious investment for years to come. Find a trusted company such as Skypeak Maintenance Services who can also provide affordable swimming pool maintenance services for you in the future.
Get in touch with us for a high quality, affordable and stress-free swimming pool construction in Singapore.
+65 8168 5713
Request a Free Quote for
Swimming Pool Construction and Renovation Services Today