No matter how robustly your swimming pool was built, occasional mishaps, long exposure to heat as in the case of Singapore, or perhaps time itself can cause the components within your swimming pool to break down. The common damage faced by pool owners is swimming pool leakage issue, and this is where professional skilled expert such as Skypeak Maintenance Services can be activated to perform a highly durable swimming pool waterproofing solution on the pool. Beside leakage damage, there are several types of damage that can occur in your pool, which range from shell or tile damage. On occasions, it may even be that the lighting fixture or your pool's heating system require much-needed refurbishing. In cases like this, this is when you can relied on our team to diagnose and provide you with highly specific repair solution.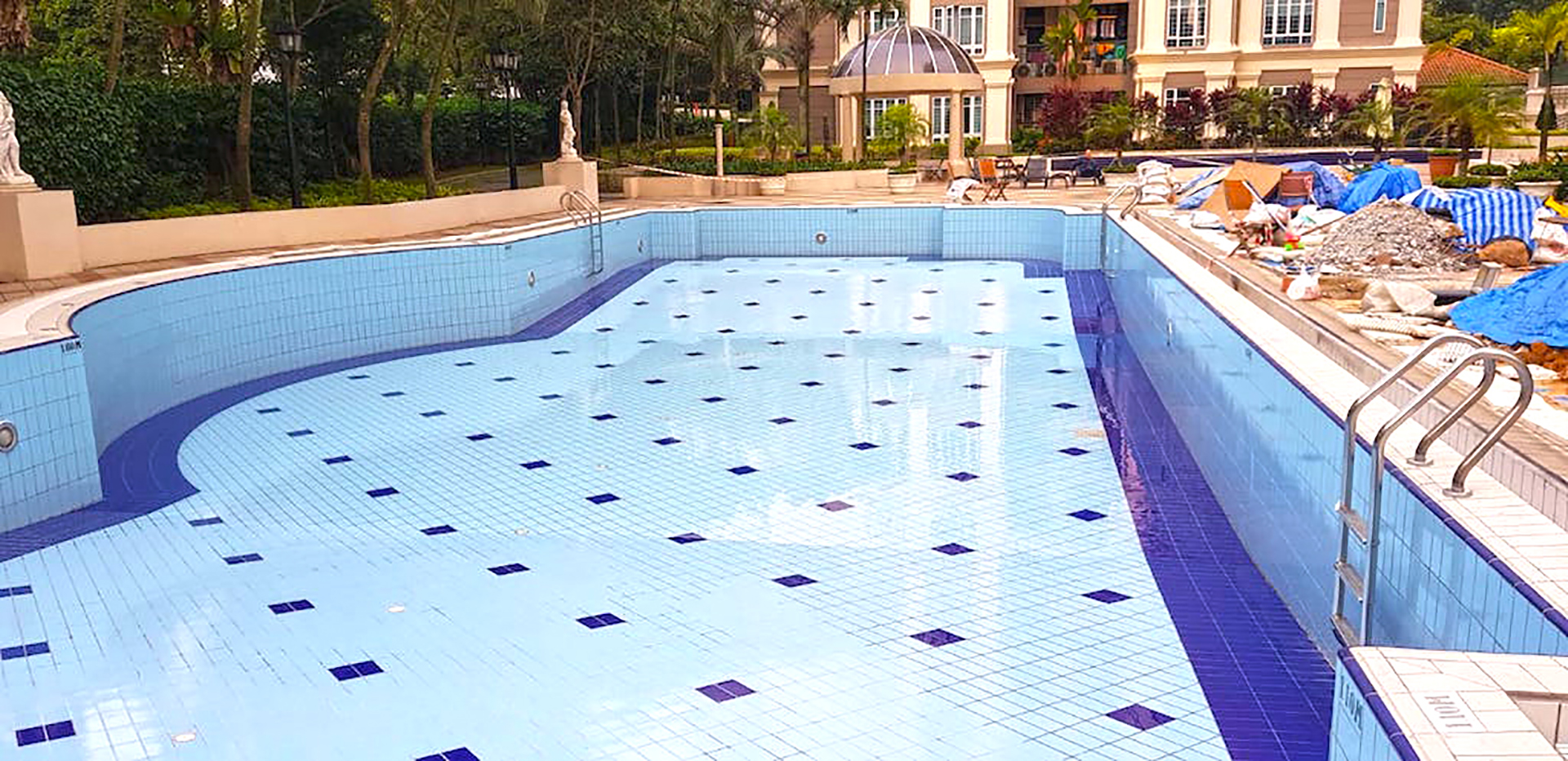 Our Swimming Pool Leak and Repair Expertise
Before you recommend a solution, you need to find the core of the problem. At Skypeak Maintenance Services, our team of experts conducts a thorough diagnosis and evaluation of your swimming pool so as to nip the issue right in the bud. Identifying the root cause allows us to recommend the right solution customised to specifically address the problem once and for all. Skypeak Maintenance Services offers a one-stop waterproofing and repair solution, catering to all types of swimming pool leaks and repair needs. We have an adept team of technicians, capable of handling pool waterproofing work, underwater repairs and maintenance, including repairs and maintenance of pool filters, heater, pumps, tiles and pipes.
POOL FILTERS REPAIRS
Skypeak Maintenance Services specialises in the installation and replacement of pool filters, covering a wide range of filter types such as cartridge, sand or diatomaceous earth (DE). The filtration system of the pool is crucial for filtering out large particles such as sand to ensure a clean, and safe water, free of contaminants. Ideally, the filter should be replaced before there is further deterioration in water quality.
POOL HEATER REPAIRS
Of all the components of your swimming pool, the heater is usually the one that requires the least maintenance, but is essential, especially for discerning pool owners. The pool heaters, whether gas or electric, regulate the temperature of the water. If the heater no longer warms up your pool, it may be because calcium scales are building up its tubes. If you prefer a cooler pool, Skypeak Maintenance also has pool coolers, perfect for Singapore's hot and humid environment.
TILES RE-PLASTERING, REPAIR OR PLACEMENT
As your swimming pool ages, the ground around it settles, and as a result, the gap between the tiles expand. This natural occurrence eventually causes water leakage. This is inevitable, no matter how well-constructed your pool is. Skypeak Maintenance Services can re-plaster, repair or replace your tiles so you can continue enjoying your swimming pool without any issues.
POOL PUMP REPAIRS AND MAINTENANCE
Another integral component of your pool is the pool pump, which generally comes in three different types: filtering, self-suction and centrifugal pumps. Although normally self-priming, the strainer basket requires regular cleaning. The pool pump keeps the water in regular motion to prevent the growth of bacteria and algae from developing on your swimming pool's surface.
PIPE BURST REPAIR SERVICES
A burst pipe results in cubic meters of water being lost, skyrocketing utility bills, and in general, inconvenience for the homeowner. Pipes are responsible for transferring water to and from your swimming pool. If it bursts, consider it an emergency. Our team of experts will respond in the shortest response time possible to carry out the necessary inspection and pipe repair works.
OTHER REPAIR SERVICES
We also address other common swimming pool repair works, ranging from waterproofing swimming pool, fiberglass pool repair works, vinyl liner repairs, deck repairs, and underwater repair services such as fixing your pool's lighting fixtures. Should the components be deemed beyond repair, we have a wide range of high-quality pool equipment such as lights, pumps, pipes and filtration systems ready for immediate installation. To ensure that you only get the best, our equipment and parts are made of the highest quality without compromising affordability, so you will get to enjoy your pool for an extended period of time.
The Advantages of Hiring Skypeak Maintenance Services for Your Swimming Pool Waterproofing Leak and Repair Needs
Skypeak Maintenance Services is a trusted
swimming pool specialist
in Singapore offering a spectrum of services such as
swimming pool cleaning services
, water testing, and
maintenance works
. We use only the best equipment, and with a certified team of skilled pool technicians. We offer fast on-site response with transparent and competitive quotes. Call us today to immediately address your swimming pool leak and repair needs.
Get in touch with us for a high quality, affordable and stress-free swimming pool leak repair services in Singapore.
+65 8168 5713
Request a Free Quote for
Swimming Pool Leak Repair Today